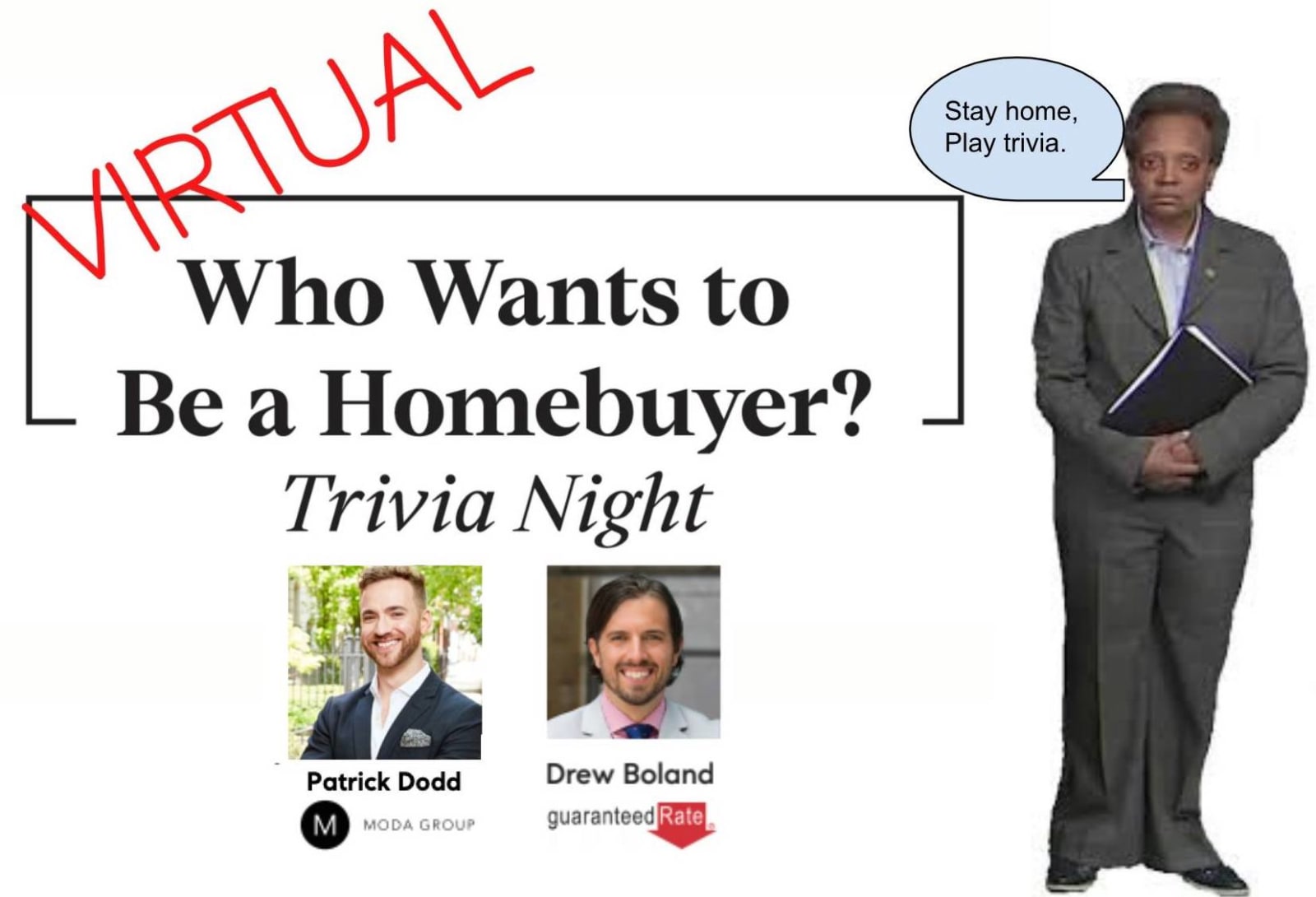 5:30pm - 7:00pm
---
Are you into trivia?
Miss interacting with other humans?
Looking for a fun activity to distract you from eating your 5th and 6th meal of the day?
Are you totally sick of spending over 50% of your income to rent 450 square feet but have no idea how to, erm, not do that?
Sign up now FOR FREE for (Virtual!) 'Who Wants to Be a Homebuyer?' Trivia Night! We've taken our top-rated bar-trivia-style event online. It's still a fun, lighthearted way to learn the ins and outs of the home buying process, while drinking a cocktail or two and partaking in some friendly competition. No boring lectures here! But now you don't need to leave the house (or put on pants) to do it.
Winner gets a $100 gift card to any local restaurant of his/her/their choosing AND a $100 donation to the charity of his/her/their choice.
Whether you're itching to buy your first place this year, you think you may want to buy something some day and have no idea if that's even possible, or you just want to put a fun activity on your calendar to help you figure out what day it is, grab your spot now. Come play some trivia, learn a lot, have some laughs, and have a reason to open another bottle of wine for the week.
And if you have other friends/co-workers/family members who are also up for some fun and learning, invite them to join, too! It'll be fun for all.
But don't take our word for it; here's what some previous trivia-nado's had to say:
"I may be biased because we ended up with the trivia win :), but honestly, [last night] ranks at the top of the events I've been to around this topic. You and Drew did a great job at providing valuable info in an engaging and fun delivery." -- Courtney
"For us trivia was a super fun and low stress way to get to know Lauren and the home ownership process better. We gained fun facts, great snacks, and made connections. Much like Lauren and her team, it was upbeat, engaging, and enjoyable!" -- Christine
Even Lori Lightfoot approves! (Well, she hasn't exactly told us that, but we know how much she likes people who stay home and save lives, so we believe she'll love an at-home trivia night.)
If you like games and you don't like when your landlord keeps raising your rent every year, you won't want to miss this.
See you on Zoom!
Interested in bringing 'Virtual Who Wants to be a Homebuyer' Trivia Night to your company? Email [email protected] for more information.